GET YOUR ONLINE ORDER FAST
FREE LOCAL PICKUP

Erixaart offers FREE local pickup in the bus for customers in Tucson, AZ. Local pickup is only offered on days when the bus is at an event. You will be able to see pickup dates at checkout. 

How local pickup works: 

1. Shop erixaart.com and add the items you want in your cart 

2. Checkout and select FREE Local Pickup (no need to enter any shipping address)

3. Pay (no cash payments for free local pickup option)

4. See you at the bus with your scheduled date! 
FREE SAME DAY DELIVERY THURSDAYS

FREE same day delivery for orders over $50 in Tucson, AZ!

Thursdays only! Order online before 11am on Thursdays to receive your order the SAME DAY! You can expect your order to be delivered from 12pm-5pm the same day. We do not offer local delivery to post office or virtual address boxes! 
Your package/order will be placed near your front door, near your mailbox, or near your gate. If you need to leave any instructions for delivery, you will be able to do so at checkout online. You do not need to be present for your order to be delivered.
Zip codes in Tucson, AZ that qualify for free same day delivery: 85704  85712  85711  85716  85719  85714  85706  85756  85746  85713  85735  85757
If your package is unable to be delivered due to not being able to access the delivery area for whatever reason, an email will be sent to you notifying an attempt of delivery. You will be able to reschedule the delivery afterwards. 
All items you see online Erixaart.com are able to be delivered. All orders must be processed through Erixaart.com. No cash accepted for local deliveries. 
SHIPPING TO ALL 50 STATES

Don't live in Tucson, AZ? No worries! Erixaart ships online orders to all 50 states. All you have to do is enter your shipping address in at checkout and your order will be delivered through USPS. 

Shipping charges for your order will be calculated and displayed at checkout. 

When your order has shipped, you will receive an email notification from us which will include a tracking number you can use to check its status. Please allow 48 hours for the tracking information to become available. 

All orders are processed within 3 to 7 business days (excluding holidays) after receiving your order confirmation email. You will receive another notification when your order has shipped. 
ABSTRACT FACES
My experiences while attending high school are a big reason why I started painting the creepy faces I'm most known for today. I enjoyed dressing up and doing my makeup for school. However, I did not enjoy the labels and comments of being less intelligent that came along with it. Painting faces was an outlet for my confusion and frustration. When I learned about the word "preconception" the paintings then became part of my support system. They served as a reminder to me that someone's opinion of you does not have to become how you view yourself.
SHOP ARTWORK
BE THE PAINTING YOU WERE PAINTED TO BE
Just like people- every Erixaart painting is unique. Their job is not to be liked by everyone, but to be the painting they were painted to be. Their appearance is not altered to fit the taste of many. Each Erixaart painting encourages you to have the confidence to be different and stresses the importance of being yourself.
SHOP ARTWORK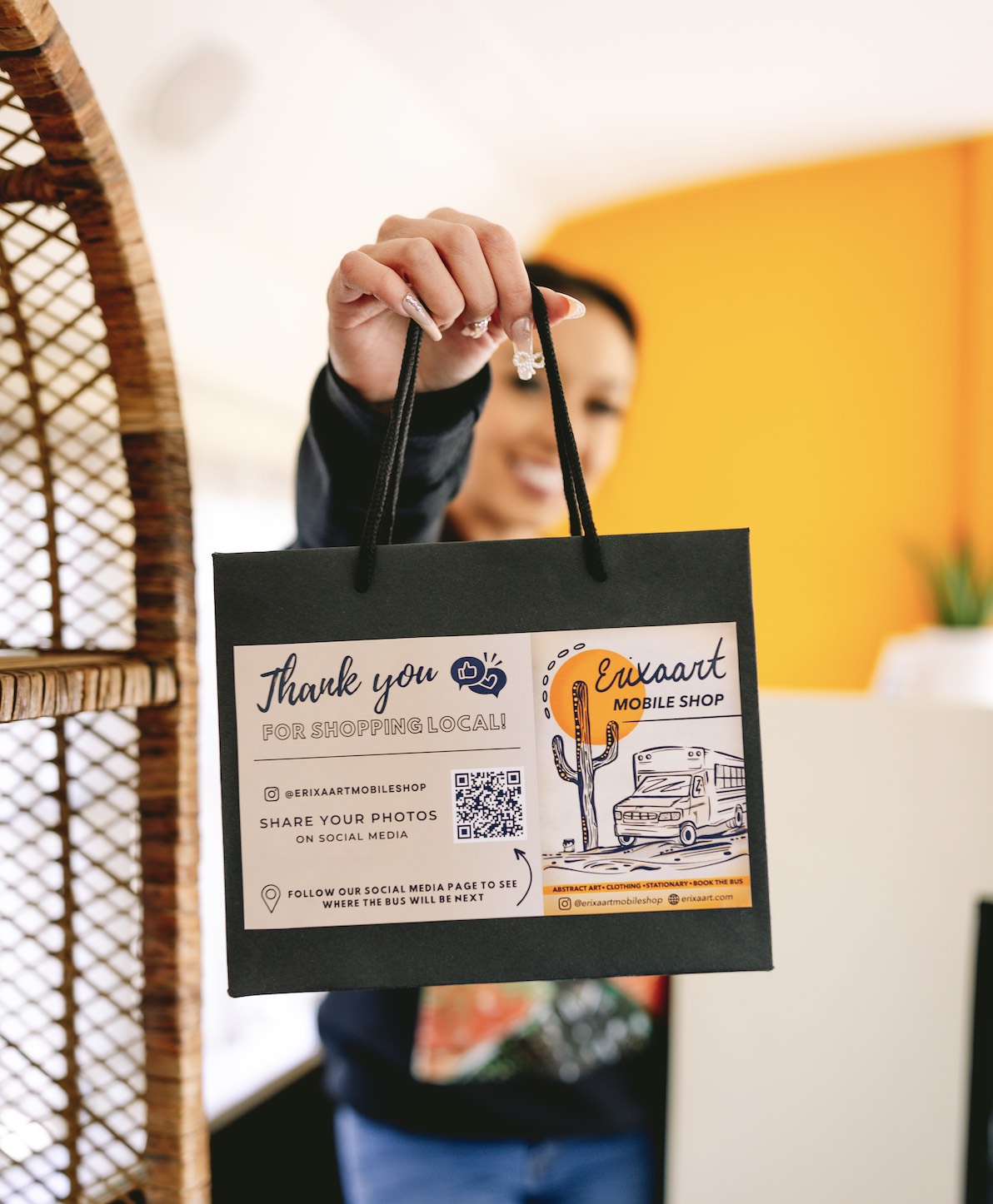 SHOP THE BUS IN PERSON
Not only can customers shop online 24/7 but now, they can shop all unique Erixaart items in person at the Erixaart Mobile Shop. The bus travels and sets up at different events where people can walk inside the 20ft bus and purchase items with either cash or card. Want to visit the bus? Take a look at the upcoming events with the bus and add them to your calendar! 
UPCOMING EVENTS WITH THE BUS
WANT TO FEATURE THE BUS IN YOUR ARTICLE, NEWS SEGMENT, OR ON YOUR RADIO STATION? LET'S CONNECT.